The new theme park under construction at Universal Orlando Resort. We'll be expanding and updating this page as we inch closer to the new development's opening date, which is currently expected "certainly" by summer 2025, according to Comcast executives in an earnings call (it was originally '23 but was pushed back thanks to the covid 19 pandemic.
Epic Universe will be the largest Universal park in the US (and second globally, just behind the upcoming Universal Studios Beijing) and will house at least three big intellectual properties: entries from DreamWorks Animation, Illumination (the makers of Despicable Me and the new The Grinch), and Nintendo, which will anchor the whole theme park.
Epic Universe – location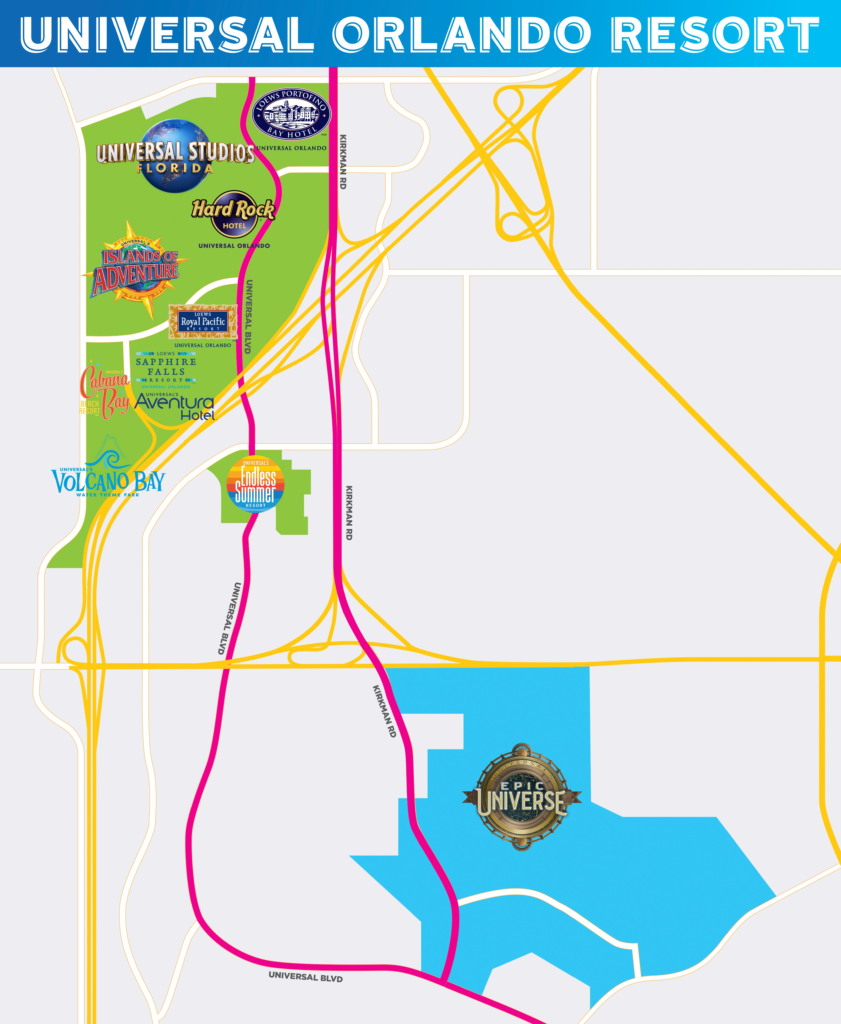 The first and most important item to note about Epic Universe is its location to all the rest of Universal Orlando. The first two theme parks Universal Studios Florida and Islands of Adventure, the water theme park Volcano Bay, the original dining/shopping/entertainment district CityWalk and the first six hotels Portofino Bay Hotel, Hard Rock Hotel, Royal Pacific Resort, Sapphire Falls Resort, Cabana Bay Beach Resort and Adventura Hotel are now the north campus; Epic Universe is the very beginning of the south campus, located some 15 minutes down the road. (There's also a third piece of property, just 64 acres in size, that sits in between the two areas and that houses the Endless Summer Resort hotel complex.)
Just to give you an idea of the size of these two chunks of Universal Orlando, the north campus is roughly 735 acres, whereas the newly acquired south district is approximately 750 acres (at least, that's all that Universal has confirmed at the moment). Don't worry – the company will provide free transportation to get guests from one area to the other, most likely in the form of shuttles. (In fact, the company has already devoted some $160 million to Orange County to help expand Kirkman Road, which will become the main artery of traffic from the north campus to the south, presumably by adding on [even more] bus lanes.)
To give you a more exact idea of Epic Universe's specific placement, it is south of Sand Lake Road and east of Universal Boulevard, as seen in the map above.
Epic Universe – layout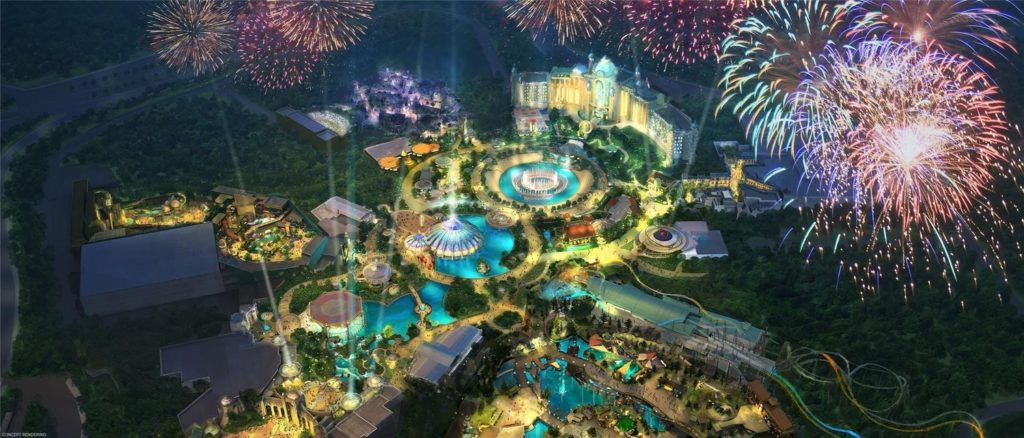 The most interesting part of Epic Universe is an item that is rather pedestrian in nearly all other theme parks: its layout. This will be the very first Universal park to adopt the traditional wheel-and-spoke design that was immediately popularized by Disneyland back in 1955, with a central hub being placed in the center and all of Epic Universe's various individual lands radiating out from it.
But just because the concept is traditional doesn't mean that Universal's implementation of it will also be. As a quick look at the conceptual art attests to, that central hub is massive, structured more like a long corridor than, say, the Cinderella Castle hub at the center of Magic Kingdom, leaving a ton of room for all sorts of experiences, entertainment, and, even, attractions (the dueling coaster in the key art would appear to be connected to this central area, making for an intriguing – and unusual – addition). Given the sheer number of buildings located here – and given Universal's insistence that a number of CityWalk-esque items will also be setting up shop right alongside the new theme park – it's not implausible to think of various restaurants or stores also being inserted along this stretch, essentially making this area Epic Universe's very own dining/shopping/entertainment complex (yes, inside the park).
Also unusual is the fact that the park's four different lands are completely isolated from everything else. This was the approach pioneered by Universal for The Wizarding World of Harry Potter – Diagon Alley, taken to the next level by Disney for both Pandora – The World of Avatar and Star Wars: Galaxy's Edge, and now fully deployed for the entirety of Epic Universe. There are two results that directly flow from this design choice: on the bright side, each themed area will feel as all-encompassing and immersive as Diagon Alley does, fully submerging you in one particular world or another; on the more practical side, each land will also be isolated in terms of its connectivity from the others, meaning that guests who wish to depart one section to enter another will have to first backtrack to the central hub (neither of the aforementioned Disney lands even went this far).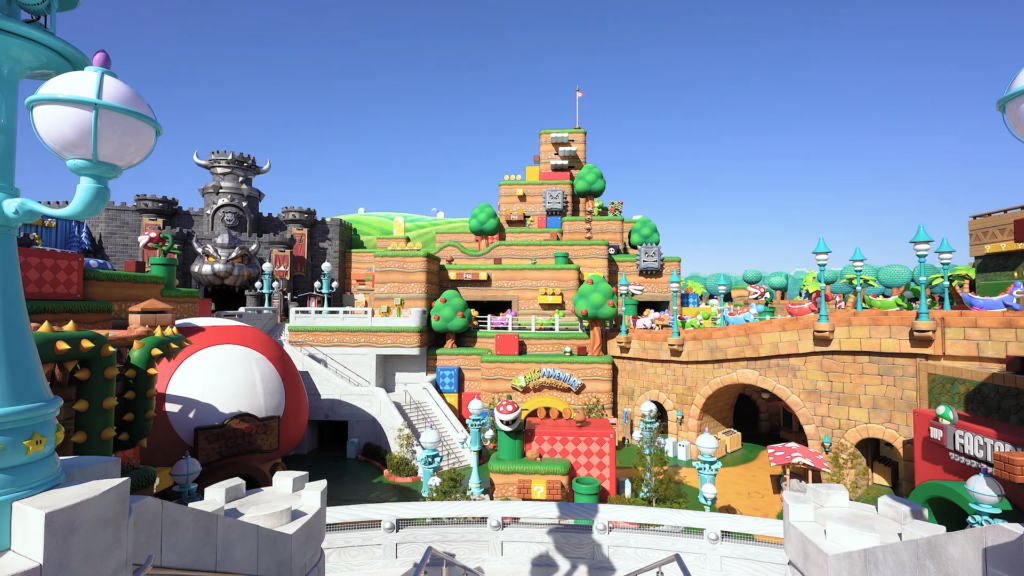 As for what these four themed areas will be, we only know the exact identity of one: Super Nintendo World the development that first came to Universal Studios Japan in 2021 and which will soon arrive at Universal Studios Hollywood (probably in either '22 or '23). As for the other three lands, it's entirely too early and too difficult to tell – the artwork was deliberately made to be as generic as possible, to make discerning which intellectual property has been assigned to which section nearly impossible. With that said, however, Universal itself has said to expect representations from the DreamWorks Animation and Illumination portfolios.
Epic Universe – history
The stretch of real estate that Epic Universe will soon be sitting on has a long and involved history with Universal – it was originally purchased by the company back in the 1990s for this exact same reason but was then sold off again due to various financial, commercial, and corporate reasons (including the revolving door that was Universal's ownership at the time). We have the full scoop on this early period of what is today Universal Orlando's south campus all laid out for you in our big feature.
But, of course, that complicated history doesn't end there. Even after Universal had revealed the new theme park in August 2019, the coronavirus pandemic hit in March 2020, which caused the company to readjust its plans – construction on the new plot of land was stopped altogether by July, and it wasn't started back up until March 2021.
Although work started to recommence on March 3, 2021 (you can read the big announcement), the company cautions that it'll still take several months to fully ramp back up to where it was at the beginning of 2020; employees – and vendors and contractors – have to be rehired and their teams reassembled in order to proceed.
All of which means that the current opening date of TBA still, unfortunately, has to remain in place – for now, at least.
News Source: Orlando Informer.