Welcome, party people, to the biggest bash this side of the bayou! You've just found the world's most popular insider's guide to the biggest Mardi Gras celebration in Orlando.
Every spring, the fun and excitement of the Big Easy makes its way to Universal Orlando Resort for an authentic celebration that completely transforms Universal Studios Florida into a family-friendly version of the famed New Orleans street party.
To learn everything there is to know about Mardi Gras 2022, we strongly recommend that you read this guide from top to bottom.
Mardi Gras at Universal Studios Florida will be held on select nights starting February 5, with festivities concluding on April 24, 2022. The event is included with your theme park ticket or annual pass (though passholder blockout dates apply).
Mardi Gras 2022 – Overview and Explanation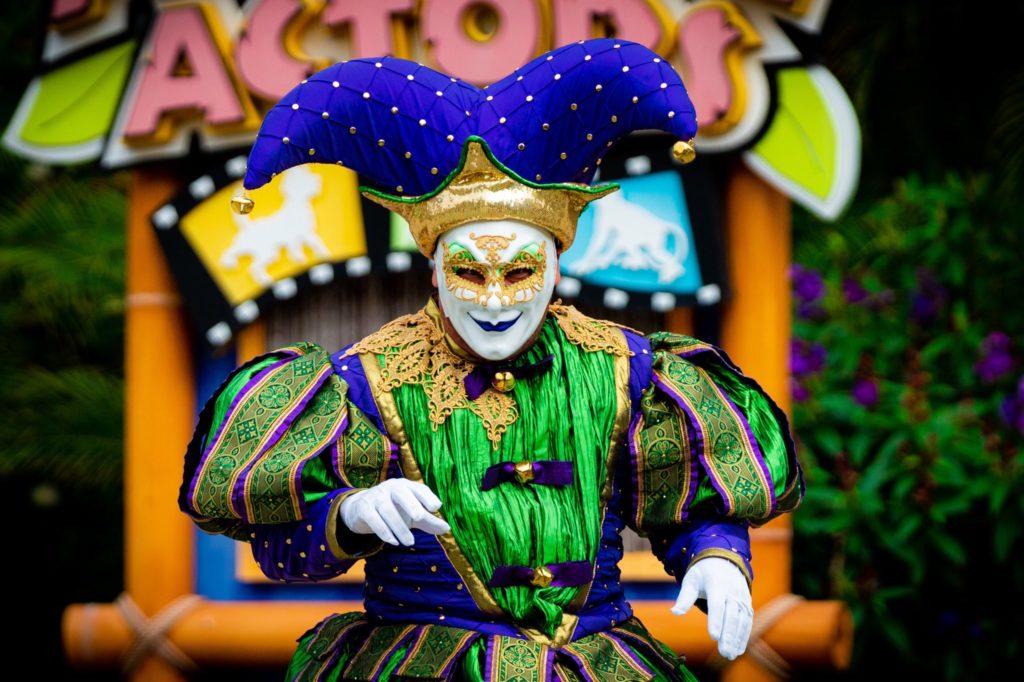 Universal Orlando Resort promises Mardi Gras 2022 to be "louder, wilder, and spicier" than ever.
The annual event runs daily from Saturday, February 5 through Sunday, April 24, although last year's festivities were extended about a full month later than usual (and a whopping five weeks after 2021's originally announced end date of Sunday, March 28 – the festivities proved to be so popular, Universal kept extending them). All of the crowd-favorite components of Mardi Gras will return: the colorfully costumed performers and authentic New Orleans bands, the Mardi Gras parade, and even the weekly headliner concerts.
To fill the void – and to double down on an element that has, in recent years, clearly come to be one of the most beloved at Universal's festivities – the company has greatly expanded its lineup of delicious Cajun cuisine, broadening it to include carnavals from all over the world and locations all over Universal Studios Florida (instead of having it be mostly confined to the French Quarter Courtyard in the New York backlot).
What about admission?
Here's the best part about the Big Easy party – it's completely free! As long as you have a ticket to get through the theme-park turnstiles on a Mardi Gras event date, you have access to everything, from the music to the food.
What about the weather?
Concerned about the weather the night you plan on getting some beads? Check out our Orlando weather page to learn more and be fully prepared for your visit.
Mardi Gras 2022 – Concerts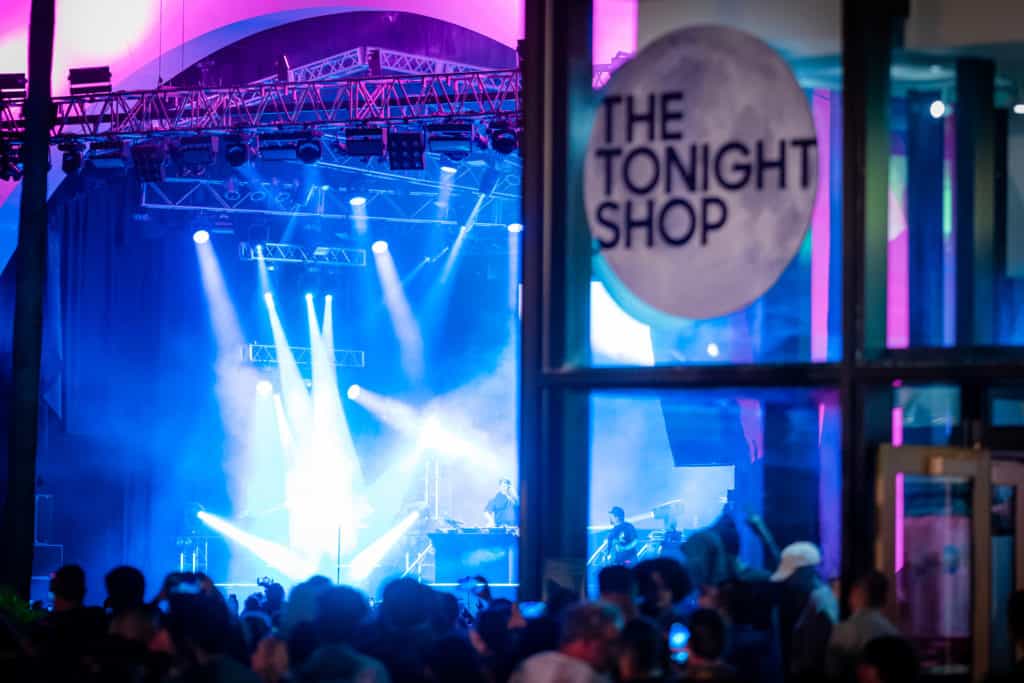 Music constitutes such a big part of New Orleans's Mardi Gras traditions, and it's no different at Universal Orlando. At Music Plaza Stage in Universal Studios Florida, guests can attend concerts on select nights during the Mardi Gras season. These concerts are included with park admission and begin at 8:30.
Here are the headliners for Mardi Gras 2022:
February
5 – Sugar Ray
12 – Diana Ross
19- Barenaked Ladies
20 – Styx
26 – Jon Pardi
March
5 – LL COOL J feat. DJ Z-Trip
6 – Marshmello
12 – Lee Brice
13 – Becky G
18 – Khalid
19 – Seal
20 – Gavin DeGraw
25 – The Revivalists
26 – Jimmie Allen
27 – Jason Derulo
No announcements have yet been made for concerts in April.
Mardi Gras 2022 – Parade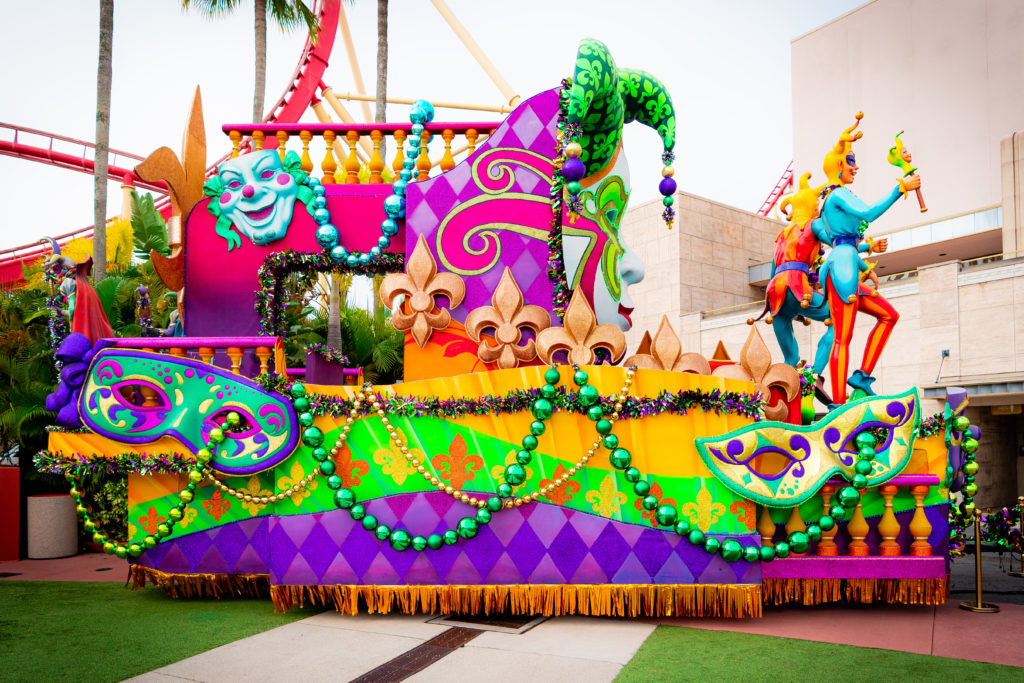 Last year, Universal took something of a page out of its Holiday Experience Featuring Macy's Balloons, which saw a number of the floats from the traditional Holiday Parade laid out in a soundstage for guests to peruse at a leisurely pace (with the occasional Christmas character still on-hand, as well). For Mardi Gras, the parade floats were situated all throughout the park as opposed to within one (giant) building, and a number of performers, stilt walkers, and dancers likewise made their way around them and helped with distributing Mardi Gras beads.
However, this year we are pleased to say that the parade will return in full force on select nights of Mardi Gras at Universal Studios. The parade will feature music, lights, and – of – course – beads being thrown from six brand-new and six returning authentic floats drafted and created in New Orleans, the heart of Mardi Gras.
The theme for this year's Mardi Gras parade? "Planet Mardi Gras" – a completely original parade theme that's inspired six all-new floats. The theme will heavily incorporate rockets, comets, and other far-out motifs in the popular Mardi Gras parade that uses floats designed and made in New Orleans. Entertainers, performers, and music make this a spectacle that can't be missed. The parade will take place on select dates throughout the Mardi Gras season.
Parade starts at 6:15 pm on the following dates:
Feb 6–11, 14–17, 22–25, 28
Parade starts at 7:00 pm on the following dates:
Parade starts at 7:15 pm on the following dates:
Feb 13, 18, 21, 27
Mar 2–4, 7–11
Parade starts at 7:30 pm on the following dates:
Mar 14–17, 21–24, 28–31
Apr 3–7, 9–24
Parade starts at 7:45 pm on the following dates:
Feb 19–20, 26
Mar 5–6, 12–13, 18–20, 25–27
No Parade on the following dates:
Registration to be a float rider in the parades:
A special perk for annual passholders is the option to be a float rider. This exclusive experience is between 2-3 hours in duration, and annual passholders get to throw beads and goad parade spectators from the best seats in the house. To register for this experience, have all passholder IDs ready and register your krewe (you and up to four other passholders) here.
Mardi Gras 2022 – Food and Drinks
It wouldn't be Mardi Gras if you couldn't eat, drink, and be merry.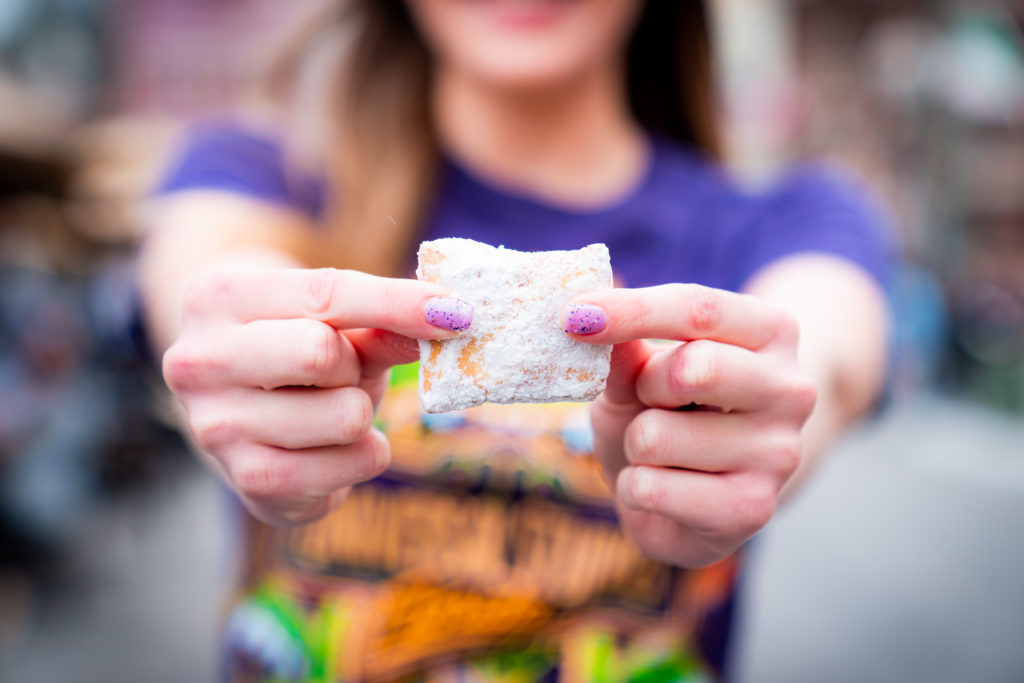 Universal's annual event features an array of delicious "N'awlins-style food and spirits," usually including over 70 dishes and drinks from 13 different carnaval countries or cities.
In previous years, guests have been able to purchase a "tasting" lanyards to sample food and drink items throughout the festival. This year, the "sample" sized options have been removed from menus, and guests are invited to purchase Food & Beverage Gift Cards to use on tasty Mardi Gras items.
Here's the pricing for the Food & Beverage Card and Lanyard:
Pay $65 for a $75 Universal Orlando Resort Food & Beverage Card and Lanyard
Pay $120 for a $150 Universal Orlando Resort Food & Beverage Card and Lanyard
No limit on the quantity for purchase
No expiration date
Mardi Gras 2022 Food Booths
The Mardi Gras food scene has expanded so much in recent years, we've dedicated a whole page to the tasty endeavor! Check out that guide here for the delicious details. Fom Ube Ice Cream served in a Matcha Bubble Waffle to savory Conch Fritters, Mardi Gras has you covered.
Mardi Gras 2022 – Tribute Store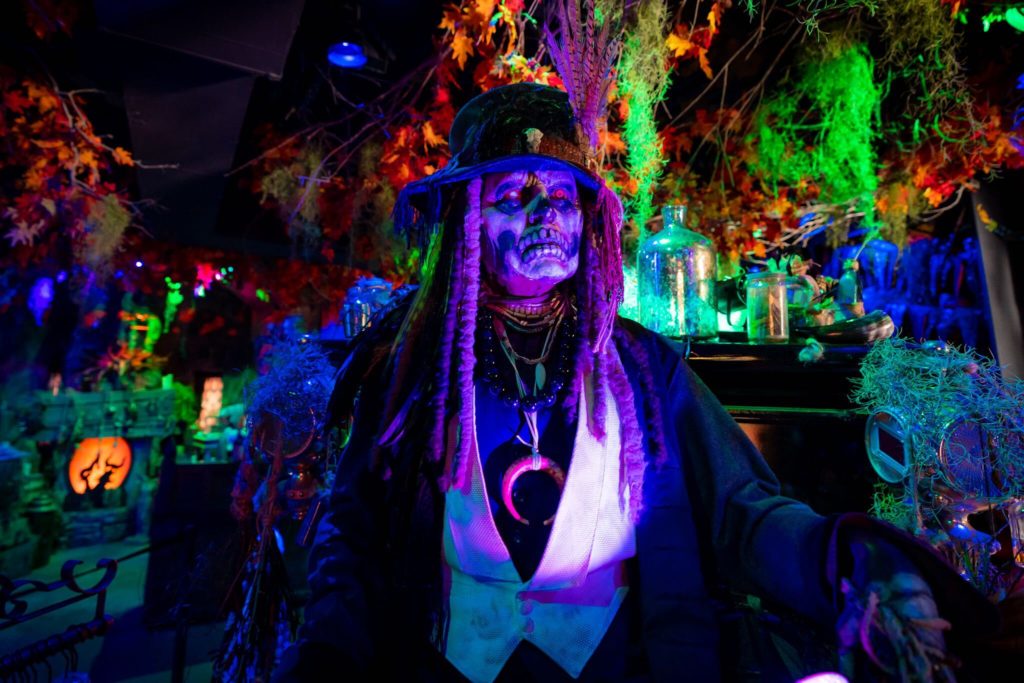 In 2021, for only the second time, Universal applied the Tribute Store template to Mardi Gras! This was not only a reflection of the element's growing importance across nearly all of Universal Orlando Resort's annual events, but it also provided another great opportunity for a fully themed, in-depth experience.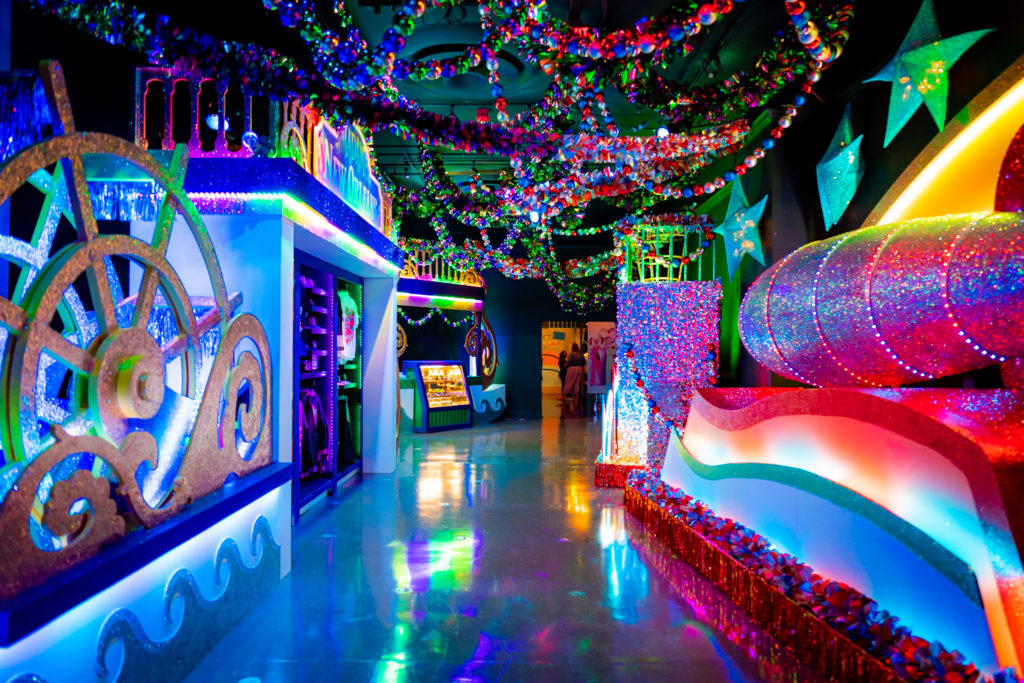 For those unfamiliar, Tribute started off life as a part of Halloween Horror Nights 2015, instantly becoming a fan-favorite – and, therefore, a perennial – part of the event (which is Universal's biggest, and the one that Mardi Gras seems to inch more closely towards with every passing year). Traditionally placed right next to Revenge of the Mummy in the New York backlot, it has grown in size and sophistication over the years; in addition to housing a veritable avalanche of HHN-themed goodies, it has also become something of a themed attraction unto itself, containing lots of scenes or Easter eggs from one attached property or another (three of the rooms in 2020's Halloween Tribute Store, for example, were devoted to Frankenstein's Monster, Jack the Clown, and Beetlejuice).
This year, the Tribute Store theme is "Float Factory Warehouse," and the immersive merchandise experience walks guests through the process of designing and creating a full-sized Mardi Gras float. The Tribute Store is the best place to stock up on all your Mardi Gras gear, and this year, Universal Orlando Resort has you covered. From beads to bucket hats, there's something for every style here.
Check out the details of the 2022 Mardi Gras Tribute Store here.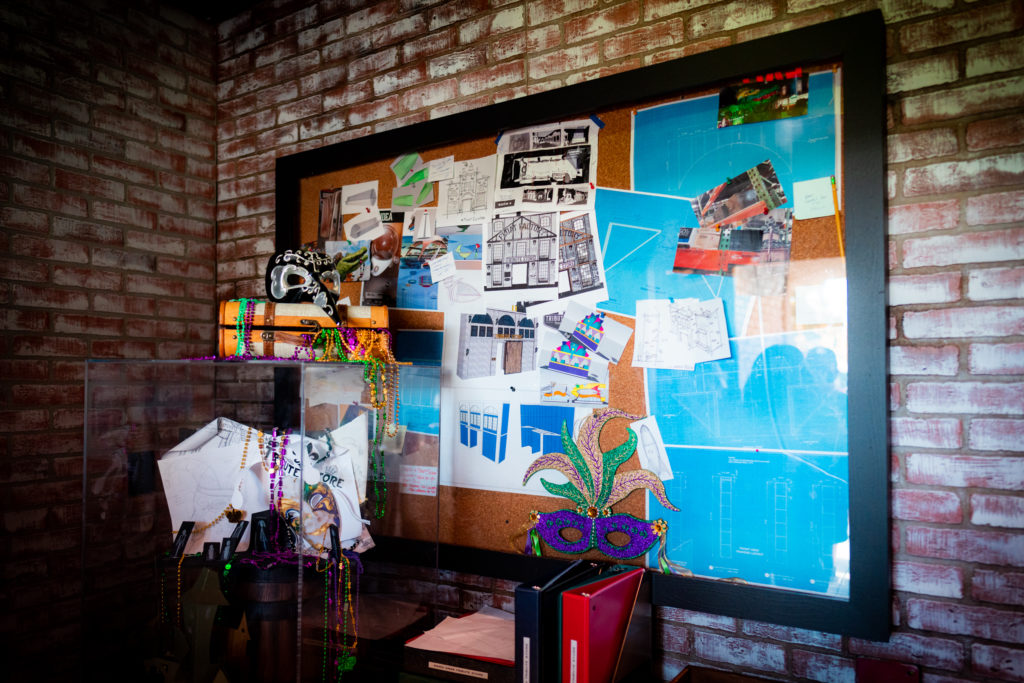 During HHN 2021, a small shop opened in The Lost Continent at Universal's Islands of Adventure. All Hallows Eve Boutique offered a small selection of Halloween Horror Nights merchandise in a sort of mini-Tribute Store setting, and the trend continued with a holiday overlay in December and, now, with the creation of All Hallows Voodoo Boutique. Ironically, this shop is where guests can get a first glimpse into the exclusive Mardi Gras 2022 merchandise and begin the Mardi Gras season, despite the fact that the events all take place at the neighboring park.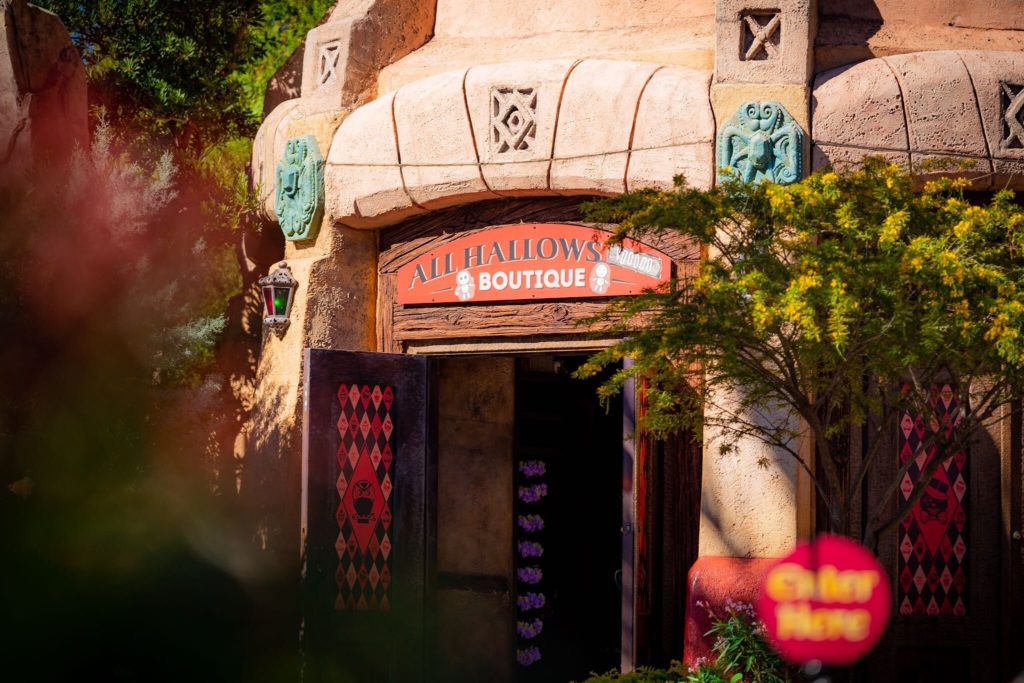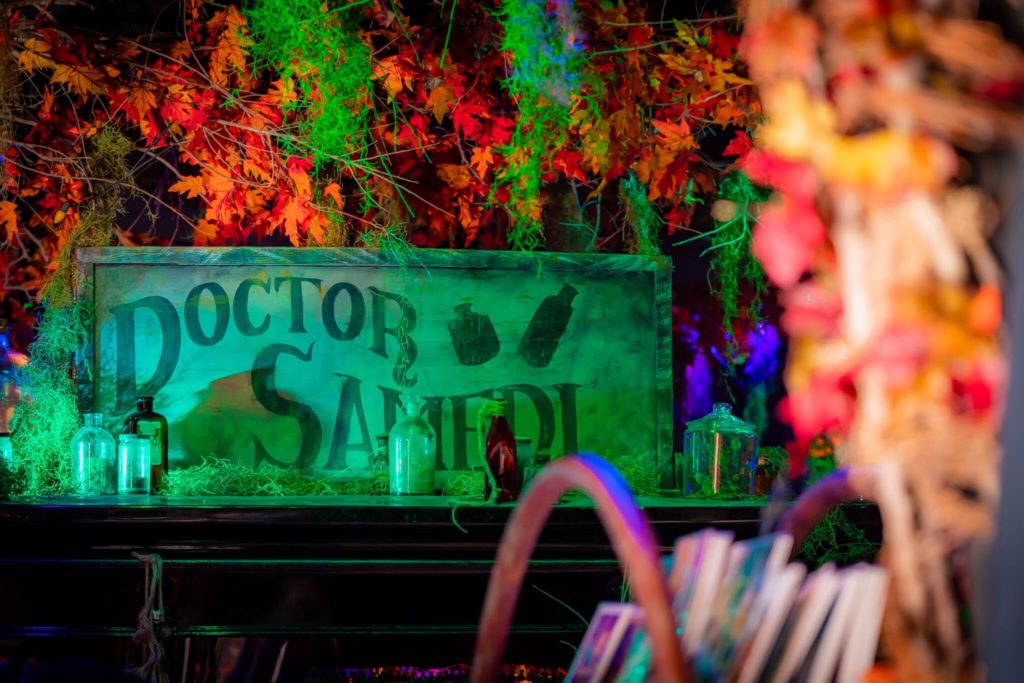 The boutique offers a fair amount of merchandise considering its size. Here, guests can stock up on nearly everything you'd need to start your Mardi Gras partying at Universal Orlando Resort. An assortment of beads, tank tops, t-shirts, candles, socks, and more await.
Across Universal Orlando Resort, you can find specialty Mardi Gras Merchandise. Here's a look at those items, with prices listed further down past the images!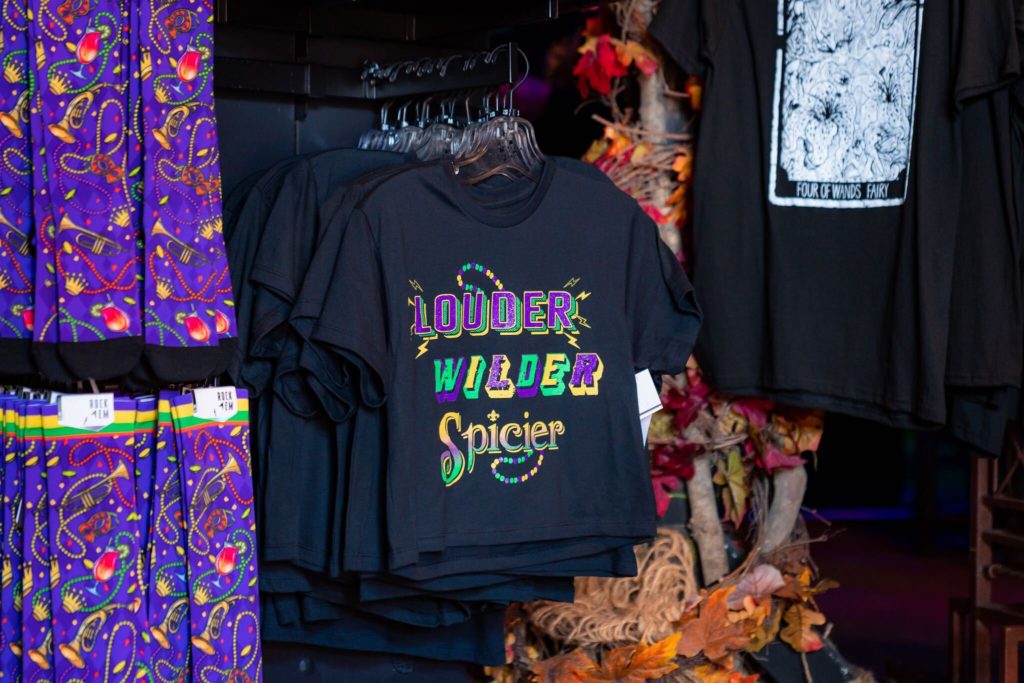 2022 Mardi Gras Merchandise Items and Prices:
Stainless Steel Tumbler – $29.99
Hyperoptic Socks – $26.00
Floral Masks – $20.00
Assortment of Beads – 3 for $15.00 or $6.00 each
Light-up Fleur de Lis – $10.00
Mardi Gras 2022 Magnet – $9.00
Women's Black "Louder, Wilder, Spicier" Tee – $40.00
"Louder, Wilder, Spicier" Hat – $28.00
Tie-dye Gator Tee – $40.00
Mardi Gras Purple Tank – $35.00
Mardi Gras Scented Candle – $20.00
Black Gator Float Tee – $30.00
Mardi Gras Space Backpack – $28.00
Mardi Gras Bucket Hat – $34.00
Space Long Sleeve – $40.00
Fanny Pack – $32.00
Spirit Jersey – $60.00
Windbreaker Jacket – $60.00
4 Pack, Buttons – $11.00
Collectible Pin Set – $50.00
White Unisex "Louder, Wilder, Spicier" Tee – $30.00
Graphic Socks – $20.00
"Louder, Wilder, Spicier" Apron – $25.00
Mardi Gras Lanyard – $15.00
Ceramic Mug – $16.00
Ceramic Shot Glass – $10.00
Mardi Gras 2022 Poster – $30.00
Wine Glass – $15.00
Hurricane Glass – $17.00
Picture Frame – $25.00
Mardi Gras Throw Blanket – $70.00
(You can read about the Tribute Store's history here.)
Mardi Gras 2022 – Krewe Crawl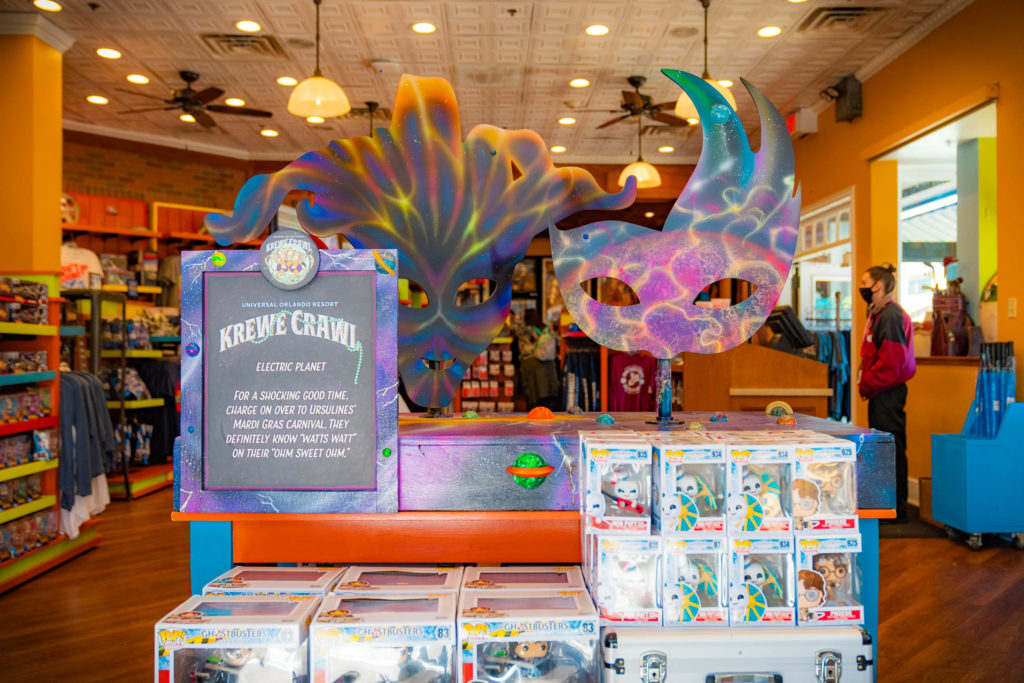 It turns out the Tribute Store isn't the only annual-event item that's being deployed year-round now.
After starting with the Holiday Tree Hunt in 2019 and then proceeding to the Scarecrow Stalk in '20, Universal's scavenger hunt arrived at Mardi Gras 2021. "Gather your krewe," the brochure read, "and take a walking tour around Universal Studios Florida to experience the rich history of Mardi Gras." Sure enough, there was a bit of actual historical info to be had at some, at least, of the 12 different locations, along with some rather interesting designs, to boot. The tradition has continued for Mardi Gras 2022, so assemble your crew for the Krewe Crawl.
The concept is simple: go to the Universal Studios Store near Despicable Me: Minion Mayhem and ask a team member for a Krewe Crawl pamphlet. You'll have to pay $10 for the paperwork, but then you can start your hunt! Across Universal Studios, 12 stations can be found in gift shops and merchandise venues. This year, the theme is Mardi Gras masks. Your task? To seek out the masks and collect stamps for your pamphlet. After you've found all 12 stations, find a team member in the Hello Kitty Store (Hollywood) to redeem your prize, which (fittingly) this year is a Mardi Gras mask.
Here are all 12 of the stops on the 2022 Krewe Crawl scavenger trail:
Custom Gear (San Francisco)
Fallon Gift Shop (New York)
Universal Studios Store (Production Central)
Film Vault (New York)
Five & Dime (Hollywood)
Hello Kitty Store (Hollywood)
MIB Gear (World Expo)
Rosie's Irish Shop (New York)
San Francisco Candy Factory (San Francisco)
Spongebob Storepants (Woody Woodpecker's KidZone)
Transformers Gift Shop (New York)
Monsters Tribute Store (New York)
Mardi Gras Krewe Crawl 2022 – photo gallery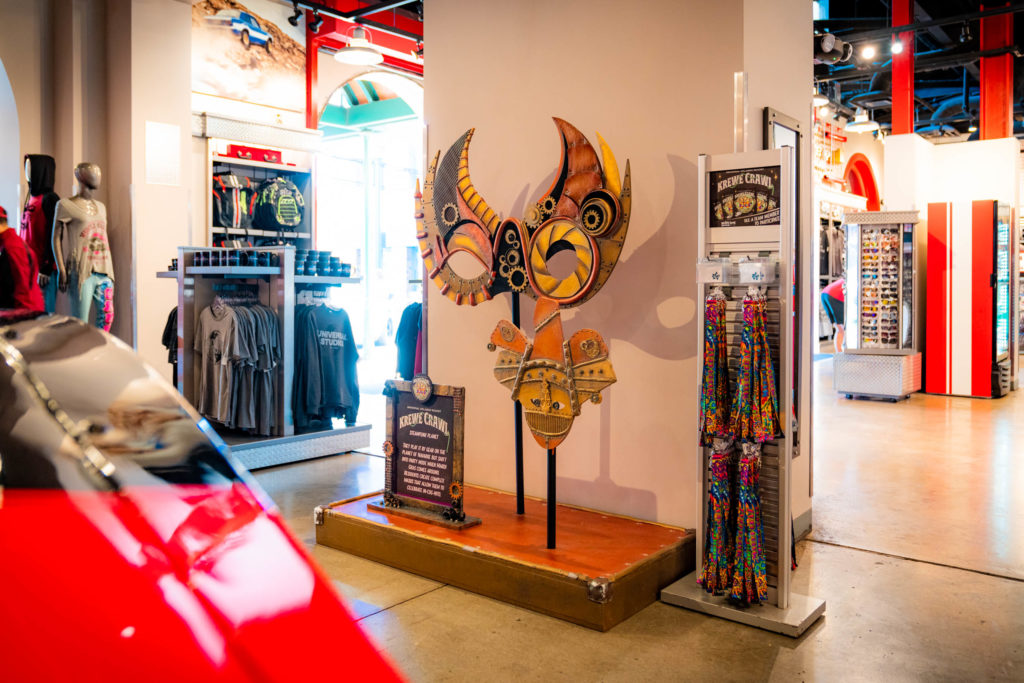 Mardi Gras 2022 – FAQ
Let the good times roll with these answers to your questions about Universal Studios Florida's Mardi Gras bash.
Is Mardi Gras at Universal Studios Florida appropriate for young kids?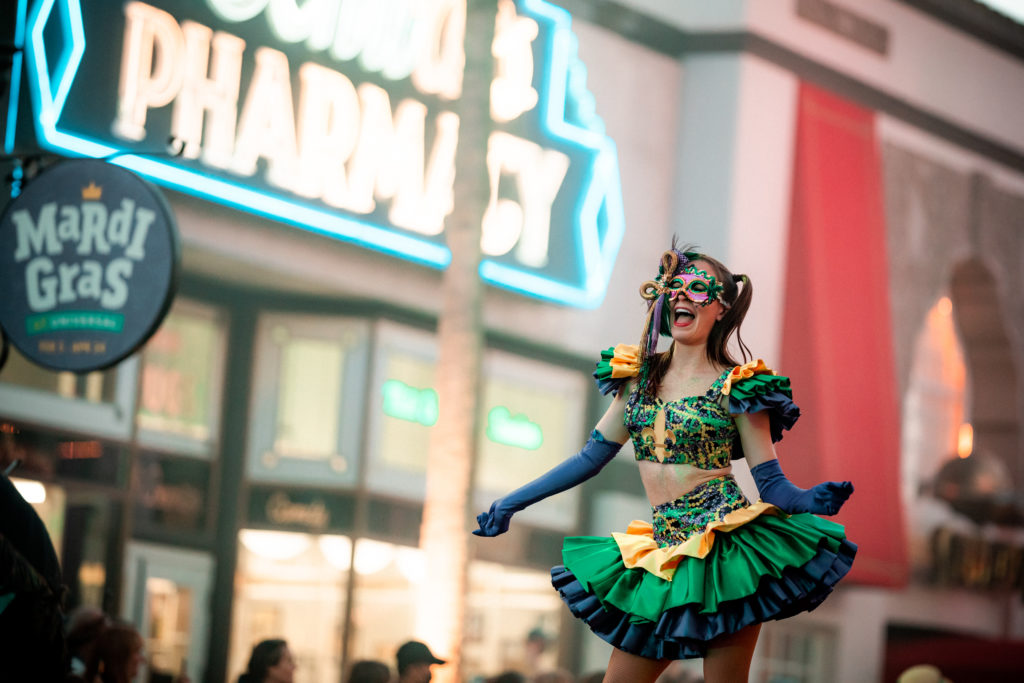 In a word, yes. Everything is totally kid-friendly, and we definitely recommend bringing along everyone in the family. Many Mardi Gras "characters" walk the streets, handing out beads and posing for photos. Mixed with the New Orleans party music filling the air, it's a very festive atmosphere.
I need beads, beads, and more beads, please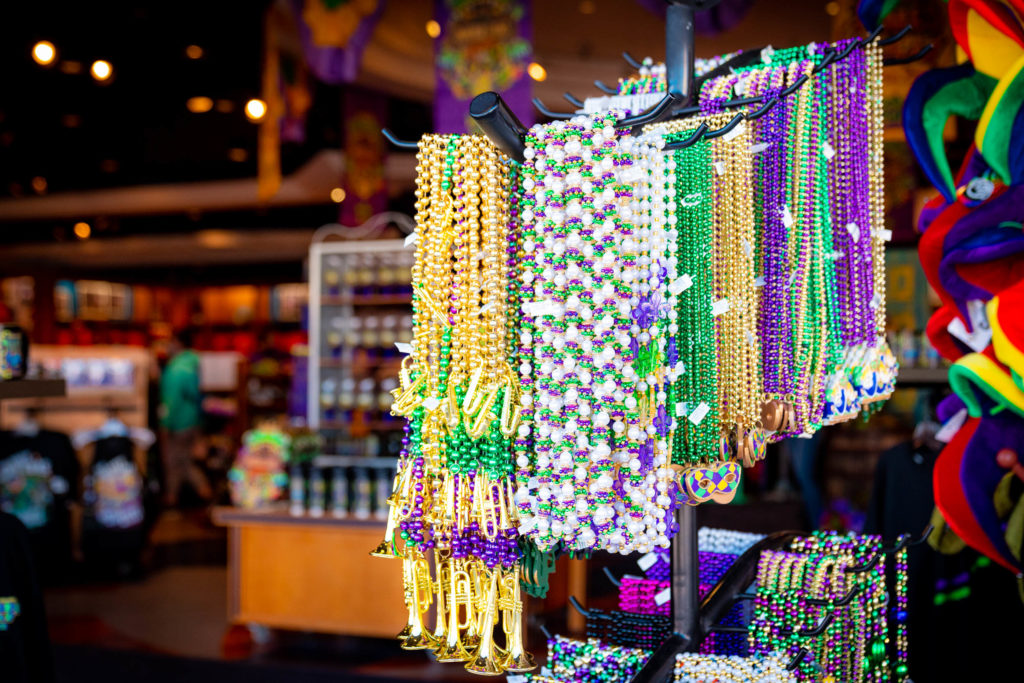 Beads are the central icon of Mardi Gras, and don't you worry – you'll be able to collect them 'til your little heart's content. And, even better, the vast majority of these quintessential items are absolutely free to you.
How do you collect beads? The usual way – by cheering and raising your hands at the parades.
And in case the standard-issue beads just aren't to your liking, Universal also sells specialty ones (for $3.99+) at the main Universal Studios Florida gift shop, the Mardi Gras Tribute Store, and at two merchandise stands: one across from Race Through New York Starring Jimmy Fallon and the other across from Fast & Furious – Supercharged.
Are there any benefits for annual passholders?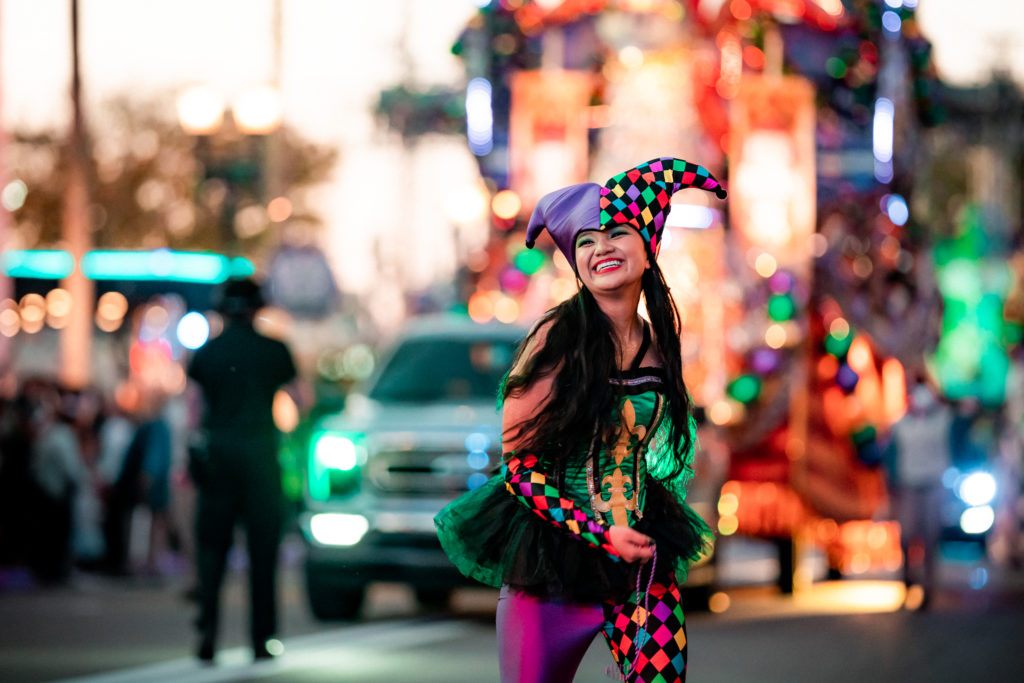 News Sources thanks to Orlando Informer.