There may be some changes in the works for one of Central Florida's longest residential construction projects.
Versailles, the 90,000-square-foot mansion being built for Westgate Resorts CEO David Siegel and his wife, Jackie, may be looking for a new team to take over the project. The mansion has been under construction for 16 years.
"We're getting ready to hire another construction company … bring in one of the big builders to finish it up," David Siegel told Orlando Business Journal. No other details were shared, except that construction has slowed down.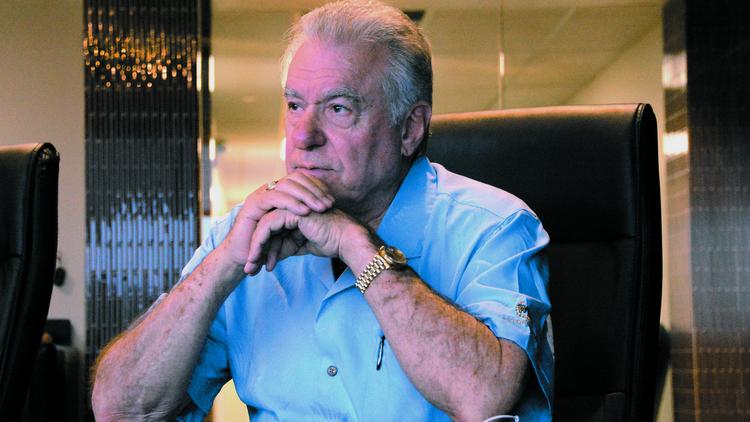 It's unclear which company is the current builder, but Orange County records identify Gustavo Adolfo Ramirez of Kissimmee-based Grasco Inc. as a contractor on several permits. Ramirez was not available for comment.
The house's long construction timeline was due to being caught up in the last major recession in 2008. Despite making progress over nearly two decades, that movement has been at a snail's pace.
Now Siegel is "not happy," but remains committed to getting the home finished. He said he has no plans to abandon the project.
Versailles will have 14 bedrooms, 32 bathrooms, 11 kitchens, a movie theater, a roller rink, a bowling alley, a 30-car garage, three levels, two elevators — including one that is gold — and a slew of other amenities. The price of the property is estimated to exceed $30 million.
Versailles made the news last year when Orange County fire crews were called on site for a reported fire. The January 2019 response was due to a fire caused by a welder spark hitting foam, which Siegel then told OBJ caused no significant damage.
Last November, the Siegels both were quoted by DailyMailTV as not being as driven to complete the home. That was due to a new mission the couple has taken on with the Victoria Siegel Foundation, an organization named after their late daughter, Victoria, who died at age 18 in June 2015 due to a drug overdose. The foundation tackles various drug-related issues, including raising awareness about drug abuse and addiction in schools, colleges and universities.
"We're not as motivated to finish it or live in it as we were when we first started construction," Siegel, the richest person in the City Beautiful with a net worth of $900 million told DailyMailTV in November 2019. "The important thing in my life is to save lives. I don't care about houses, I don't care about business, I don't care about money. I want to save lives."
Westgate Resorts is one of Orlando's largest privately held firms, with $1.31 billion in revenue, and one of the region's largest employers, with roughly 5,232 local workers. The timeshare company boasts 27 themed destination resorts nationwide featuring more than 14,000 luxury villas and hotel rooms.
New Sources: bizjournals